Summer Flowers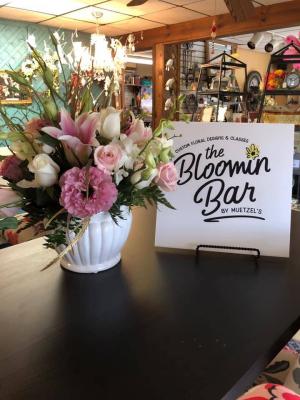 Floral Classes for 6 weeks!
Various designs
Starting June 17th and ending July 15th; we are offering six Mondays (6:30-8:00) of floral designing! Classes fill up quickly, so please call me for your reservation: 412-788-1122 You will learn techniques to make these arrangements with your garden flowers! BYOB and snacks and join the FUN!
$150.00, $150.00, $150.00
Shown at $150.00
More Info
The sizzling summer sun is here to stay! Enjoy it safely inside with the addition of bright and cheery summer flowers. Send sunflowers, golden-yellow daisies, princess-pink carnations, or any other summertime favorite. You deserve a fun summer treat, and flowers are 0 calories! Need to send flowers to a friend or loved one out of town? No problem, THE BLOOMIN BAR BY MUETZEL'S FLORIST in Mckees Rocks can help! Simply stop by, give us a call or shop online, THE BLOOMIN BAR BY MUETZEL'S FLORIST is glad to help!