Floral Design Classes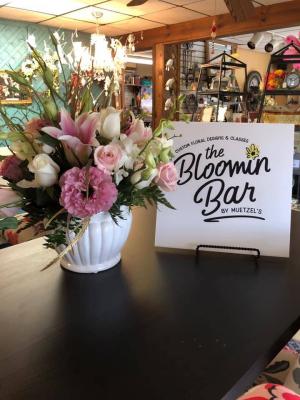 Floral Design Classes
Various designs
We are offering two types of classes: Mondays (6:30-8:00) six week courses-$175 OR Private class for 5-12 'students' at $40/each. Classes fill up quickly, so please call me for your reservation: 412-788-1122 You will learn techniques to make you very own arrangements! BYOB and snacks and join the FUN!
PRIVATE PARTIES...minimum 5 per class...call
412-788-1122; and pick your date!

OR
Join us at our new Bloomin Bar!

We will be making a FRESH arrangement for you to take home and enjoy. You can pick your price, your container and your flowers!

If you'd like a closed class for FIVE to TEN of your friends only, please call Patti at 412-788-1122 to discuss the date you are thinking of. We will be happy to do a private class Tuesday thru Saturday.
Did you know that fresh flowers are a natural mood booster?
Make sure to place your fresh flower in an area you see when you get up in the morning...
Keep your fresh arrangement away from direct sunlight and heating vents...especially computers, they will last longer for you...
Don't forget to water everyday. ENJOY:)